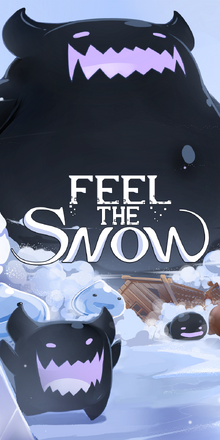 Welcome to the Feel The Snow wikia page! if there's something we've missed please give a helping hand by adding the page yourself or asking one of the main contributors of the Wikia to add it, the game is very new and not everything is fully fleshed out yet so the information on this Wikia is subject to change, thank you for visiting we hope this site helps you!
New from the Owlet Team!
https://twitter.com/owletplay/status/914614970477838336
We experienced great difficulties and spent a lot of time on the port for Mac / Linux and, unfortunately, the port for these platforms is still being postponed, it is connected with the game engine and we can not solve this problem. We apologize to everyone who was waiting for the ports. We still will be trying to find decision. 

The cards for Steam are almost ready, it remains to draw a few backgrounds and smiles. 

A large patch is in the development process, we hope that within the prescribed time limit (two months) we will be able to finish it. 

According to plans: 

Best regards,
The plans for the upcoming patch
Several new characters 

Completed skill trees of old characters 

Continuation of the storyline 

New economy (balanced) 

New weapons 

New locations (3 currently proposed- a forest area and perhaps undead area as suggested by their Twitter)

New bosses 

Side and hidden quests 

More types and angles of the roofs 

Different home decorations

Owlet Team.-22nd June
Main Pages
Edit
Latest activity
Edit
Added Tantalum Sword Page
Added Hood Page
Added Snow Scythe Page
Added Tantalum Ore Page
Added Tantalum Ingot Page
Added Wood Flooring Page
Added Wooden Sword Page
Added Wooden Stick Page
Ad blocker interference detected!
Wikia is a free-to-use site that makes money from advertising. We have a modified experience for viewers using ad blockers

Wikia is not accessible if you've made further modifications. Remove the custom ad blocker rule(s) and the page will load as expected.